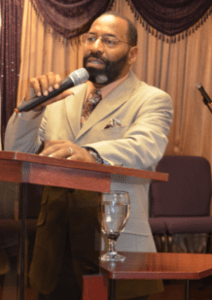 REVEREND TONY PRITCHETTE, PASTOR AND FOUNDER
Reverend Tony Pritchette is the Pastor and Founder of Provision of Grace World Mission Church in Philadelphia, PA. The Church was birthed immediately after receiving and accepting the call to Pastor in 1997. He was licensed and ordained in 1998 at Jameson School of Ministry and Theology. Provision Grace opened its doors in June of 1999, embracing and functioning as a five-fold ministry as described by the apostle Paul in Ephesians 4:11-12. Pastor Tony's primary objective is to edify the Body of Christ by preparing them for all works of service.
Pastor Tony is from Philadelphia and received strong spiritual nurturing and ties from his family. Although, he received Christ as his personal Savior, at an early age, in 1987, he rededicated his life of service to God and became a diligent member of Zion Baptist Church, under the pastorship of Reverend Leon H. Sullivan. He utilized the experiences he gained as a secular Promoter/Producer to develop and direct evangelistic services and events for the Church, the Zion Community Center, and other noted artists and spiritual leaders in the City of Philadelphia. A successful annual outreach was the "Save the Children Campaign" which incorporated the resources of the church and the community center, with neighboring businesses, proprietors and organizations.
From 1988 to 1993, Reverend Gus Roman served as Pastor of Zion. During that time, Pastor Tony served God in many efforts. He began actively involved in prison ministry and continues to date weekly ministry to the inmates of local prisons. He drew much from Pastor Roman, similar to the Samaritan woman at the well (John 4). The knowledge and experiences he gained, while working with Pastor Roman, would later be used to fulfill the call to Pastor Provision.
In 1993, Pritchette Productions, Inc. was established and from this creation, numerous gospel concerts were promoted and produced throughout Philadelphia and in Washington, DC. In addition to local artists, several nationally acclaimed gospel artist were also included in the programs implemented, such as: Reverend Darryl Coley of Los Angeles, CA; Minister Kirk Franklin of Dallas, TX; Betty Griffin-Keller of Los Angeles, CA; Timothy Wright and the New York Fellowship Mass Choir; and the Wilmington-Chester Mass Choir. In an effort to create and support special ministerial events, Pritchette Ministry Productions was established, in 1994, as a satellite of Pritchette Productions, Inc.
In 2000, Pastor Tony was employed by the Community Services Development Corporation working extensively as a Job Developer in the Philadelphia Prison Systems. His primary objective was to obtain jobs, training and counseling for ex-offenders for re-entrance into society as positive contributors. While he is currently committed to full time ministry as Pastor of Provision of Grace World Mission Church; he continues to actively seek job and educational opportunities for ex-offenders or other oppressed individuals.
Due to his teaching series on the "The Characteristics of a Psalms 1 Man", Pastor Tony has inspired men throughout the Tri-state area. As a result, in December of 2004 he was selected and installed as the Shepherd of the Philadelphia Men's Regional Fellowship.
As a result of his excellent leadership as President of the 35th Police District Chaplaincy, Pastor Tony was elected as President of the Philadelphia Northwest Division Police Chaplaincy. 
His greatest passion is to allow the Spirit of God to use him wherever the need may be. (Isaiah 61:1-3)
Reverend Tony Pritchette is married to Sharon A. Morgan-Pritchette and is the father of 5 children and 6 grandchildren and 1 great-grandchild.